Our Story
Italian Roots
With a strong Italian heritage, the Capolupo family has had a palate for great Italian food and traditions since an early age. With roots originating in Palazzo San Gervassio, a small town in Southern Italy, the Capolupos have enjoyed cooking authentic recipes passed down through generations for as long as they can remember. Today, the Salisbury-based siblings keep their rich culture of family and love of classic Italian food alive both at home and with their guests at Capri.
The NEW Capri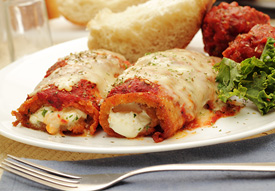 A centerpiece of the new dining experience is the impressive café addition featuring a handcrafted, world-class Forno Bravo dome-shaped brick pizza oven. Here, artisan pizzas cook fast at blazing temperatures of up to 800 degrees yielding a crispy dough crust topped with exceptional baked-in flavors from fresh, high quality ingredients. The convenient Grab & Go area offers Capri's signature sun-dried tomato bread dip created by Erica Capolupo Breen, signature desserts and cakes from Montilio's Bakery, and an imported Italian-made espresso machine.
While the renovated space also showcases a modernized interior color scheme, vibrant lighting, and warm wood décor, the updated menu offers affordable fare, appealing to both loyal customers and a new generation of diners.
At Capri Seaside Italian Kitchen & Pizzeria, food and family are celebrated, and everyone is treated like family!
mangiamo Let's Eat!
Hours
Hours
Wednesday  – Saturday| 4PM – 9PM
Sunday | 4PM-8PM
Monday – Tuesday | Closed